VFXRio Live presents: MULTIVISION MANIFESTO
4 and 5 December - 2021
Connect to one of the newest and most intriguing metaverses through technologies that enhance the virtual reality experience. Discover what the future of media and technology will look like through research developed by IMPA's VISGRAF Lab. Follow the Globo team in the development of effects during the pandemic with 100% remote teams.


New media for an expanding reality
Date: Saturday, 4 December at 10:30 AM (local time)
Presentation: VISGRAF / Pi Center - IMPA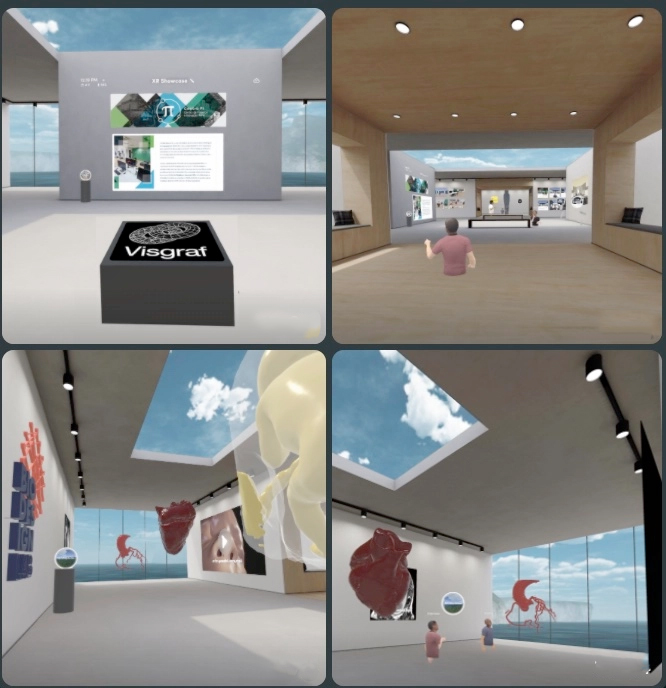 The Keynote revisits the development of media technology from the 1950s to the present day and presents a vision of the future. We will cover from the beginning of virtual reality to the creation of the Metaverse. The most important historical milestones in this area will be related to the research developed in Visgraf's laboratories in the last 30 years. The keynote includes a live demo of the current project expanded into a shared virtual space.
Saturday 4 December
10:30 Introduction
10:40 Luiz Velho on VFXRio Live: New Media for an Expanding Reality
11:10 METAVERSE: Fireside Chat with Visgraf team mediated by Liana Brazil - Founding Partner and Creative Director, SuperUber and SuperViz

JORGE LOPES
Coordinator of Technological Projects (Pi Center) at IMPA. He has a Post-Doctorate in Additive Manufacturing - (Deakin University Australia - Visiting Professor); Post-Doctorate in 3D Technologies for Museums - National Museum - UFRJ; PhD in Design Products (Royal College of Art - UK); MSc in Production Engineering (COPPE/UFRJ); Bachelor in Industrial Design - UFRJ and is a Post-Graduate Professor at PUC Rio.
OLD LUIZ
Senior Researcher PQ at CNPQ and Titular Researcher at IMPA and leader scientist at VISGRAF Laboratory. His academic background includes: BE in Industrial Design by ESDI / UERJ in 1979, MS in Computer Graphics by MIT / Media Lab in 1985, and Ph.D. in Computer Science in 1994 by the University of Toronto. During 1982, he was a visiting director at the National Film Board of Canada. From 1985 to 1987 he was a Systems Engineer at Fantastic Animation Machine in New York, where he developed the company's 3D visualization system. From 1987 to 1991 he was Principal Engineer at Rede Globo in Brazil, where he created special effects and visual simulation systems. In 1994, he was a visiting professor at the Courant Institute of Mathematical Sciences at New York University. He was also a visiting researcher at HP Laboratories in 1995 and at Microsoft Research China in 2002.
SERGIO KUGLAND DE AZEVEDO
Full Professor at UFRJ and former director of the Museu Nacional/UFRJ. Geologist and paleontologist, currently coordinates the Digital Image Processing Laboratory of the National Museum/UFRJ. Develops projects in the area of three-dimensional modeling from computerized tomography files
BERNARDO ALEVATO
He has a degree in Industrial Design from Pontifícia Universidade Católica do Rio de Janeiro (1997) and a Master in Design from Pontifícia Universidade Católica do Rio de Janeiro (2020). He is currently a design and computer graphics advisor at Oi Kabum! Lab and works as a freelance designer in the areas of graphic design, motion design and interface design. He was a collaborating professor at Pontifícia Universidade Católica do Rio de Janeiro from 2009 to 2021. He has experience in the field of Industrial Design, with emphasis on Visual Communication and digital media.
VINÍCIUS ARCOVERDE
She has a degree in Industrial Design from the Pontifical Catholic University of Rio de Janeiro (2018). She was CNPQ scholarship holder in the Institutional Program of Scholarships for Initiation in Technological Development and Innovation (PIBITI) in which she was highlighted for her initiation scientific initiation PIBITI category (2018) that dealt with interaction through haptic interfaces. He has experience in 3D Design dealing with surface generation from real world data and new technologies such as haptic interfaces and virtual reality. Working for over 2 years in User Experience Design (UX/UI).
GERSON RIBEIRO
Degree in Industrial Design from the Pontifical Catholic University of Rio de Janeiro Specialized in 3D and transition between the physical and digital. For 5 years as a researcher and operator of rapid prototyping technologies (3D printers) and capture surfaces (3D scanners) and Virtual Reality in the laboratory NEXT PUC-Rio and the Institute TECGRAF PUC-Rio Also works in 3D modeling and rendering, as well as programming with Arduino and Gadgeteer physics interfaces, Processing development environment and Unreal Engine
MARIANA DUARTE
She has a degree in Architecture and Urbanism from the Methodist University of Piracicaba (2002). She is currently assistant set designer at Rede Globo.
Architect and urban planner, daughter of architects, this allowed her to be involved in the world of creativity from an early age. Graduated in 2002, she worked in several projects of architecture, urbanism, landscaping and scenography of drama and shows. In scenography, she has been working since 2007. Developed several scenarios, The Voice, Superstar, Encontro com Fátima, Zero 1 and others. Creativity, passion, beauty and elegance are the words that mark her presence in these projects.


Producing Visual Effects in a Pandemic
Date: Sunday, 5 December at 10:30AM (Brasilia time)
Presentation: Globe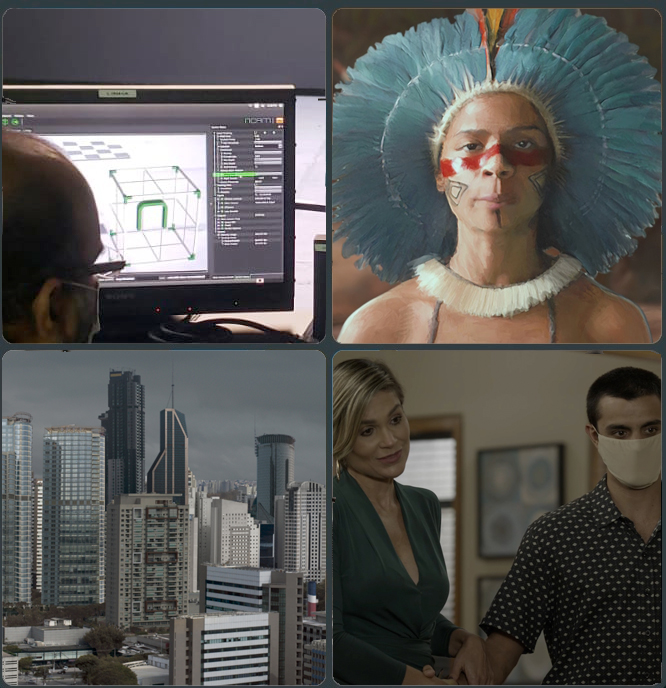 The visual effects team from CDesign, talks about how it was to produce and post produce visual effects during the pandemic. In the midst of many uncertainties and difficulties, how were recreated ways to record and post produce, almost 100% remote, from pre production to finalization of the project.
Sunday 5 December
10:30 Introduction
10:40 VFXRio Live: Producing Visual Effects in a Pandemic
11:35 Q&A mediated by Matteo Moriconi - Director of VFXRio

JORGE BAND
Supervisor and Producer of Visual Effects at TV Globo. Currently working on series and soap operas as visual effects supervisor on TVGLOBO and GloboPlay projects, where over the last 15 years he has supervised over 17 major productions including the series Filhas de Eva, Dois Irmãos, filhos da Pátria and the Emmy nominated series Se eu fechar os Olhos Agora. His latest soap operas include the groundbreaking In a Place in the Sun, shot 100% during the pandemic, the international Emmy award-winning Orphans of the Earth and the soap opera Summer 90. A filmmaker by education, he is studying for a Master's Degree at UFRJ in New Digital Media and specialized in Entertainment Management at Escola Superior de Propaganda e Marketing. In the 90's he worked on commercials, videos for MTV, children's series such as TVCOLOSSO, No Mundo Da Imaginação and Sitio do Pica Pau Amarelo. In the early 2000s he participated in musical projects such as Fama and XSPB 1,2,3 and 5 and in 2008 he co-directed the film Segurança Nacional. A pioneer in virtualization of scenes in national dramaturgy, such as the accident of Maysa (GLOBO, Series,2007) and Alto Astral (GLOBO, soap operas,2015), he always sought innovations to suit his productions. In 2017 he introduced a virtual character in the soap opera pega-pega, an imaginary plush kangaroo , produced together with Lucia Modesto, supervisor and manager of 3d and animation at TVGLOBO.
RUDÁ PIM
VFX Supervisor - Visual Effects. Began his career in 2003 as a motion designer in the advertising and institutional market. In 2006 joined TV Globo, acting as motion designer participated in numerous projects of varieties and dramaturgy. In 2012 he took over as Supervisor of Visual Effects and in 2014 began leading the core of weekly programs and shows. Today he is responsible for the team of Visual Effects Supervisors, Composition and Matte painting of the dramaturgy of Globo Studios.
THIAGO SANTORO
Designer 3 (Composer). +17 years of experience with digital and print media, among these, 13 years as visual effects composer in the post-production area of Globo in series, soap operas, movies and variety shows.
ANA FLORES
Has been working with vfx for 24 years at Rede Globo. Specialized in visual effects compositing on Flame/Autodesk.
THIAGO ANJOS
Passing through much of the audio visual sector, began his career as a composition artist in 2002, in 2011 enters the team of artist of TV Globo, where he acts as senior artist, since then there have been dozens of projects, including soaps like Cheias de Charme, Velho Chico, Novo Mundo, Deus Salve o Rei and many others.